Tutt Bryant Heavy Lift & Shift has loaded out the 770-tonne Queen Beetle high-speed ferry at a shipyard in Henderson, Western Australia.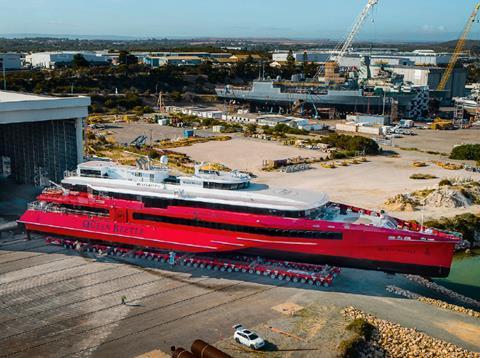 Tutt Bryant used 80 SPMT axle lines built by German trailer manufacturer Scheuerle to move the ferry from yard to water. The axle lines are part of the Australia Marine Complex (AMC) fleet.
Two SPMT platforms, each with 40 axle lines and two power pack units, completed the move. The combination had to navigate around various obstacles in the shipyard, a task made possible by the SPMTs' sophisticated electronic steering. Scheuerle's planning software SALSA contributed to the successful execution of the transport; sweep path simulations were used to calculate how obstacles on the transport route could be safely avoided.
Queen Beetle will soon connect the Japanese city of Fukuoka with the South Korean port of Busan and will reach speeds of 37 knots.
A video of the projects can be seen here: