UK-based heavy haulage expert Allelys has delivered and installed eight transformers for two separate projects: the Kergord Energy Station and Viking Energy Substation on the Shetland Islands.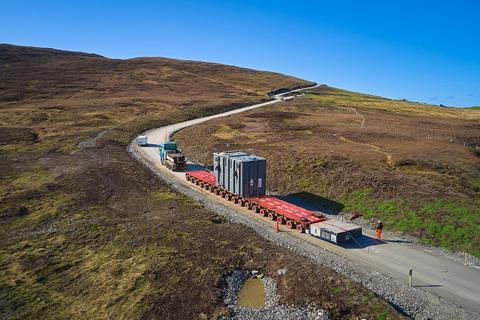 The first project saw four 168-tonne transformers measuring 7.5 m long, 4 m wide and 4.5 m high transported from Lerwick port to the Kergord substation on a 15-axle modular trailer.
The transformers arrived at the port of Lerwick in pairs and were offloaded by a geared vessel. While one unit was temporarily stored, the other was transported across steep hills to the site.
To cross the terrain, two tractors were used to pull the 35 m-long trailer up the first hill. After that, the cargo was transhipped on to an 18-axle SPMT that took it up the second and down the final hill. Finally, the transformers were manoeuvred into position using jacking and skidding techniques.
The route was then repeated for the unit left in storage, before the second pair of transformers arrived at the port and the whole operation repeated.
For the second project, four 94-tonne transformers arrived on a barge into Rotterdam. A mobile crane transhipped the cargo onto Allelys trailers and shipped over in pairs to the port of Immingham, UK.
Allelys moved the cargo 400 miles (643 km) by road to Aberdeen where it was shipped to Lerwick port. With a total transport length of 28 m and height of 4.8 m, the cargo was then moved by road to the Viking Energy Substation. Once on site, the transformers were offloaded ready to be assembled and built before being jacked and skidded onto the plinth.
Zac Smout, senior project manager at Allelys, said: "With multiple units arriving from different countries in such a remote part of the UK, this was not an easy task. These multi-phase and multimodal projects really showcased our range of equipment and techniques, incorporating the team's dedicated project management and engineering services over several months."