Finnish mining and smelting company Boliden tasked Pori-based heavy load specialist Vuorsola with the removal of a 243-tonne electrostatic filter from its nickel smelting plant in Harjavalta.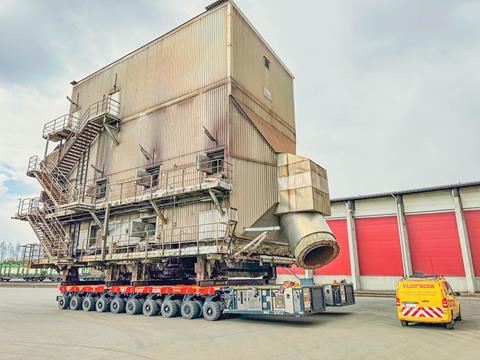 The electrostatic filter is used for cleaning the flue gases and needed to be replaced. The unit, measuring 16 m x 13.8 m x 16.6 m, needed to be moved to a scrapyard for disposal.
"First of all, the electrostatic filter was attached to the crane and cut out of the steel construction by experts using a thermic lance," said Petri Toriainen, project coordinator at Vuorsola. "Then the hulk – which was as big as a block of four flats – had to be swung over an adjacent office building and lowered so that it could be transferred to the SPMT combination."
The 10-axle Cometto SPMT combination then had to negotiate a 90-degree bend before passing under a conveyor belt. "We lowered the mid driving height of the SPMT's a little here," said company ceo Mikko Vuorsola, "in order to gain the last few centimetres of space."
The new equipment was then transported using SPMTs from the assembly location to the crawler crane that was ready to lift it into position.