Wiesbauer has utilised its SPMTs from Cometto to transport a 318-tonne generator and a 335-tonne gas turbine to the coal-fired power station in Marbach am Neckar, Germany.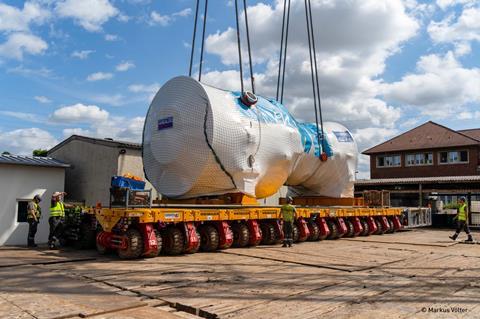 The cargoes arrived at the quayside in Marbach onboard an inland vessel. Two crawler cranes were deployed to offload the components: Wiesbauer's Demag CC 2800 and a Liebherr LR 1600 from crane service provider Neeb.
The cranes worked in tandem to lift the generator and turbine off the vessel and over a warehouse building. The crawlers then reversed on to mats that had been laid out in preparation to load the cargoes onto the SPMT combination.
Cometto sales manager Joachim Kolb explained: "In this cross-hire rental operation, Wiesbauer procured extra axle lines from the vehicle fleet of Schares Autokrane." In total, the transport specialists assembled a side-by-side combination with 2 x 12 axle lines. The whole thing is driven by two power pack units.
The manufacturer's SPMTs were also put to the test by Krebs Korrosionsschutz, which had to transport a 1,140-tonne ship section, measuring 32 m long and 42 m wide, from its place of production on to a barge.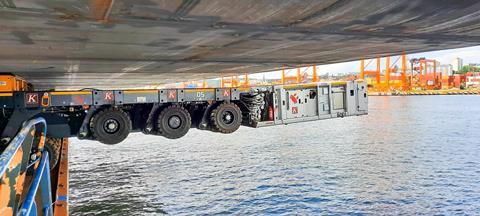 36 axle lines and two power pack units were used for the operation, which was unique in that the barge narrower than the SPMT combination. To compensate for this, three axle lines were lifted, which then stood together with the power pack above the edge of the ship.