Antonov Airlines has transported three racing yachts to Auckland, New Zealand, in preparation for the 2021 America's Cup race.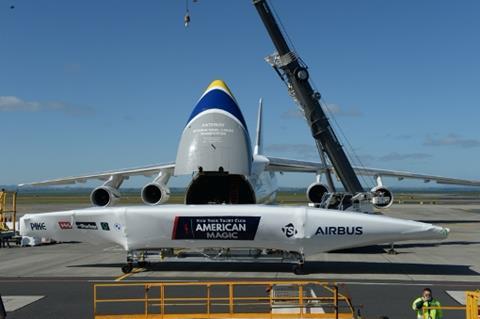 The yachts measured 22.8 m long and 4.9 m wide. Antonov utilised its fleet of AN-124-100 aircraft to move the yachts from Italy, the UK and the USA.
The total weight of each consignment, including the yachts and support equipment, came to 20 tonnes.
The first yacht was transported from Providence, Rhode Island, USA, for the American Magic team, with the second travelling from London Stansted Airport, for the British INEOS Team UK. The third departed Milan Bergamo Airport, Italy, for the Italian Luna Rossa team.
The journey from the USA took three days and included fuelling stops in Chicago, Illinois, and Honolulu, Hawaii. The shipments from the UK and Italy also took three days and involved fuel stops in Dubai, UAE, and Surabaya, Indonesia.
"Our engineers worked closely with the teams that organised the air shipment of these unique yachts to develop a safe loading and stowage system for the long journeys to New Zealand," said Andriy Blagovisniy, commercial director of Antonov Airlines.
"The AN-124 Ruslan, which has a volume of cargo cabin up to 700 cu m, was the ideal aircraft for the job."