Sarens' CC2600H and CC600 successfully install 70-tonne columns at Remaya metro station.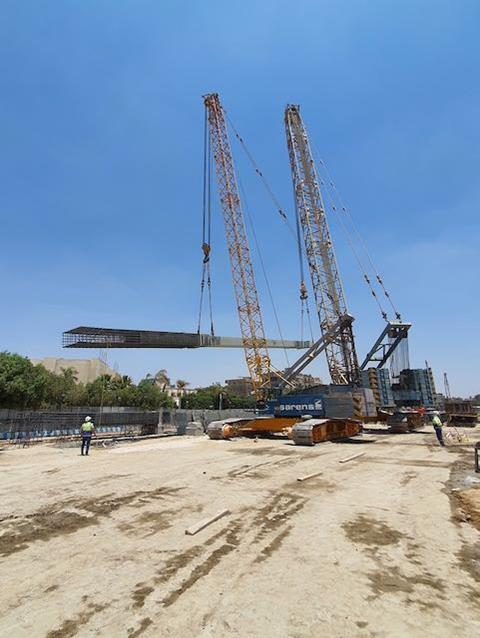 Since May this year, Sarens has been on site at the Remaya metro station in Giza, Egypt, where the CC2600H and CC600 have been lifting and installing 70-tonne steel columns for the station.
With work now almost complete, Sarens is proud to have been a part of this project, which was conducted on behalf of customer Hassan Allam.
To prepare for the lifting and installation work, Sarens considered the number of steel columns and their locations within a relatively tight worksite. Exact planning was paramount to safely assembling the equipment as well as for tilting, crawling, and slewing operations during execution.
To lift the columns, Sarens used the CC2600H crawler crane with 54 m main boom, as well as the CC600 crawler crane with 36 m main boom. The CC2600 was brought in from another completed project, while the CC600 arrived directly from the Sarens yard. It then took two days to set up the equipment.
The two cranes have been working to lift several steel columns for the metro station, performing 14 picks in three months at a height of 2 m. The six-member crew has been performing the project work steadily and with no interruptions or breakdowns, pausing only for regular maintenance work on the cranes.
Sarens would like to commend everyone on this project for their excellent work, and wishes our client the successful completion of this important initiative!

Sarens' mission is to be the reference point in crane rental services, heavy lifting, and engineered transport. With state of the art equipment and value engineering, the company offers creative and intelligent solutions to today's heavy lifting and engineered transport challenges. With more than 100 entities in 65 countries operating without borders, Sarens handles small-scale to mega-scale projects. It currently employs 4,452 professionals. Safety and excellence are key drivers for Sarens and the company strives daily to establish a safe space for everyone and everything related to its operations. Sarens has been the market leader for over 60 years; over four Sarens family generations are intimately involved in the business. Sarens continues to build the future on the foundations of its rich past and ensures that its clients will always stay ahead of the game when it comes to heavy lifting and engineered transport innovation.
View full Profile