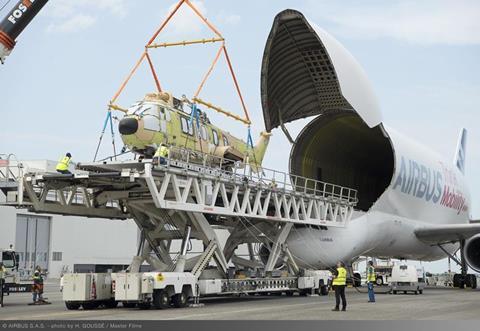 At the Air Cargo Conference in Frankfurt, Airbus Beluga Transport managing director Benoit Lemonnier explained how the company would grow its commercial business. The first step is achieving its own AOC and then adding more loading platforms.
At present, the company has loading platforms set up in six locations: three in Asia and North America and three in Marseille and Toulouse. By 2026, the carrier wants to position up to 20 of these container-deployable units at strategically important locations around the globe.
In the coming year, three mobile units will also be put into service that can be carried onboard the aircraft. These loaders can be used for cargo up to 12 m long and 23 tonnes in weight.
Beluga Transport is being set up as a fully dedicated Airbus subsidiary to operate and market five BelugaST freighters, which until 2021 were used to carry aircraft parts for Airbus. With Airbus Beluga Transport waiting in the wings, some of the ST freighters have been operated on a commercial basis by Airbus' internal airline, Airbus Transport International (ATI), and marketed by Airbus Customer Services.
A BelugaST has a maximum payload of 40 tonnes, but its unique selling point is the largest cross-section of any aircraft, with a cargo bay measuring 7.1 m high, 6.7 m wide and 39 m long – opening up new possibilities for shippers wanting to move large items by air.
The aircraft are available to the military sector, for example for the transport of helicopters but other industries could also use them, said Lemonnier – such as the aviation sector, the oil and gas industry, mechanical engineering, or the automotive industry.
Lemonnier added that the launch of Beluga Transport comes against the background of the Russian war against Ukraine, which has seen the Antonov freighters operated by the Russian Volga-Dnepr Group withdrawn from the market due to sanctions. "The capacity for transporting oversized freight is limited accordingly," said Lemonnier.
Airbus has been replacing its BelugaST aircraft with six new BelugaXLs based on the larger A330-200 platform.