The port of Gothenburg in Sweden has launched its digital berth planner tool Allberth.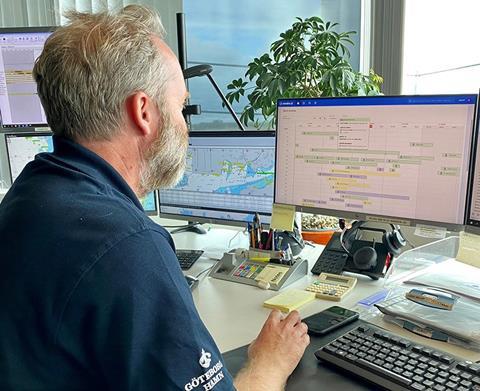 Allberth is the result of collaboration between the Finnish company Awake.AI, which is responsible for developing the service, and the Gothenburg Port Authority. The system is designed to quickly and effectively identify berths that are vacant at the gateway. This allows stakeholders to improve their resource planning, while reducing waiting times and emissions.
The first to use the smart service is Port Control – which receives all calls at the port of Gothenburg – and the safety and security coordinators at the Energy Terminal. External users will gradually join the system, the port said.
Allberth offers two-way integration – for in-house use by berth planning personnel at the port of Gothenburg and for external use by the various parties involved in calls.
The system is similar in many ways to a traditional school timetable, where a note is made of which ships are moored at the different berths. Using a map service, a time slot is chosen for a specific berth, allowing operatives to see which vessel is due to moor at a particular berth at a particular time. In certain instances, users can also see the planned position at the quayside, the port explained.
Fredrik Rauer, traffic coordinator and project leader at Gothenburg Port Authority, said: "With Allberth we now have a berth planning tool that can make calls smarter, safer, and considerably more efficient for all concerned. And, reduced emissions from the vessels are an obvious benefit in climate terms."
He added: "We can now use the same tool to examine the safety parameters to determine whether a ship can moor at a specific berth, to position the ship, and to plan the time. We can also show external parties the calls that have been coordinated with the terminal and the calls for which we only have an approved vessel notification. Without this status distinction, it will appear as if we have two or three moored vessels overlapping and an outsider would logically put this down to scheduling problems. With Allberth we can give mooring personnel, the ship's agent, and the terminal the opportunity to act immediately on the information that we visualize in the application," said Fredrik Rauer.