EMS-Fehn-Group is strengthening its position in Papenburg, Germany, having rebranded the port terminal operator BERA to EFG Port Papenburg.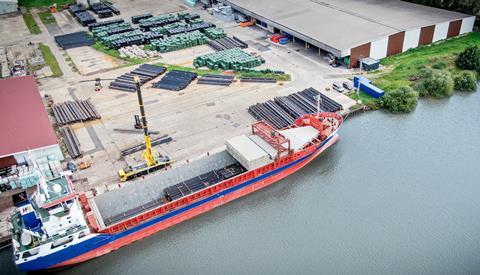 EFG Port Papenburg's berth allows for the simultaneous mooring of two seagoing vessels. Its premises cover roughly 160,000 sq m, with approximately one-third covered by warehouses. Peat, wood, steel and alternate fuels are among the goods handled on a regular basis.
"We offer our customers all services from one single source," said EMS-Fehn-Group's ceo Manfred Müller. "Precisely because we have our own terminals, vessels, cranes and trucks and the expertise that comes along with operating them, we are able to quickly supply tailor-made solutions."
In order to make the most of these advantages, internal processes have been further optimised and EFG Port Papenburg has been completely integrated into the group. The multimodal port terminal plays an important role as interface between sea and land transportation.
A team member of Lübeck-based EFG Heavy Haulage will move in with colleagues in Papenburg shortly to serve customers and organise transports from there. "This will enable us to react even faster and be more flexible to our clients' requirements," said EFG Port Papenburg's managing director, Holger Wedemann.
EMS-Fehn-Group, headquartered in Leer, consists of 18 companies in 10 countries across Europe. The group offers a variety of logistics services and its companies – among other things – are active in shipping and project logistics, heavy and oversized road transport, yachts deliveries, and customised crane services.