Baltic Power has been appointing contractors for its 1,200 MW offshore wind farm development in the Baltic Sea.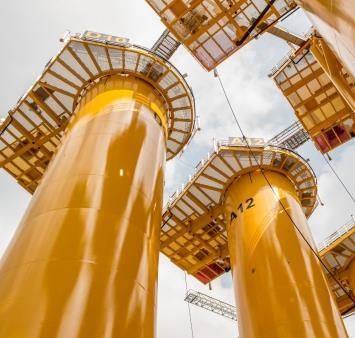 Belgium's Smulders and Haizea Bilbao (Spain) have signed a deal to fabricate and supply 70 transition pieces for the Baltic Power offshore wind farm in the Polish part of the Baltic Sea.
Haizea Bilbao will manufacture the primary steel at its Bilbao facilities. Smulders will manufacture the secondary steel in Poland; it will assemble, outfit, coat, and test fully equipped transition pieces at its yard in Hoboken (Belgium) or Newcastle (UK), which was recently modified to enable the assembly of transition pieces.
This is the second project in which the two companies will cooperate, and the first one for transition pieces. The pair have signed a selected supplier agreement, which is subject to a final investment decision on the project.
Baltic Power is a joint venture between Orlen and Northland Power and it aims to secure contracts for all the main elements of the farm's infrastructure and services by the end of this year. Construction of the wind farm is scheduled for 2024 and the project is scheduled to start generating power in 2026.
Monopile foundations for all infrastructure elements of the Baltic Power wind farm will be supplied by Steelwind Nordenham. Baltic Power has entrusted the offshore transportation and installation of the foundation components to Van Oord.
Cadeler, meanwhile, signed a reservation agreement to install the wind turbine generators making use of its upgraded O-class vessels.
"Securing these supplier contracts mark major project milestones for the Baltic Power project. Leveraging our expertise from already established offshore wind resources in Germany and other parts of Europe," said Christian Voelcker, interim vice president offshore construction of the Northland Power.
Daniel Obajtek, president of Orlen's management board, added: "The experience we have gained in building the supply chain for Baltic Power will be leveraged in similar future projects. We are seeking to be awarded a total of 11 licences for the construction of offshore wind farms in Poland, and we will look for opportunities to implement such projects also in the Baltics."
70 turbines with a maximum output of 14 MW will be installed at Baltic Power. Each offshore substation will be a 2,500-tonne steel structure standing on foundations and rising about 20m above sea level. A consortium of Bladt Industries and Semco Maritime will be responsible for the engineering, procurement, fabrication and installation of the substations.
The wind farm will be built 23 km offshore, near Łeba and Choczewo.