Crowley Wind Services will enter negotiations with the port of Humboldt Bay to lease develop the Humboldt Bay Offshore Wind Heavy Lift Marine Terminal in the USA.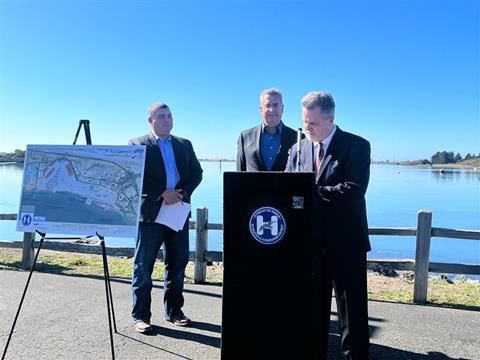 The terminal will serve as a Californian hub for offshore wind energy, supporting tenants in the manufacturing, installation and operation of offshore wind floating platforms, the use of large heavy cargo vessels, and crewing and marshalling services in the Pacific waters.
This public-private partnership will support both federal and state government goals to develop more offshore wind power in the USA; Humboldt Bay areas will be part of the first-ever offshore wind lease sale on the US West Coast, scheduled for later this year.
Utilising a grant from the Humboldt County Headwaters Fund in 2021, the port of Humboldt Bay developed a master plan for the site. That led to a USD10.45 million grant from the California Energy Commission to conduct technical studies, preliminary design and pre-permitting activities. The port expects to finalise permitting and design in mid-2024. The new agreement with Crowley focuses on a 98-acre (39.7-ha) phase I development, with options to expand on adjoining land in additional phases.
Bob Karl, senior vice president and general manager, wind services, said: "Crowley looks forward to working together with the Humboldt Bay Harbor Recreation and Conservation District to formalise a lease and development plan. Through our collaboration, we can reach our shared commitment for sustainable development that gives the state and the nation a new source of energy that respects the environment and reduces greenhouse gas emissions."
Greg Dale, president of the board of the port of Humboldt Bay, added: "Guided by the support and expertise of Crowley, the port of Humboldt Bay now stands to be an international leader in the transition to renewable energy. The port will play a critical role not only in the Humboldt and Morro Bay Call Areas, but in all future offshore wind areas of the US West Coast."
Humboldt Bay will mark Crowley's second dedicated US wind service terminal project. Design and engineering are underway in Salem, Massachusetts, for the Crowley terminal as part of a public-private partnership that will support offshore wind projects in New England.