Emirates SkyCargo has launched an airbridge between Dubai, UAE, and Lebanon – which will see over 50 flights deliver critical medical and food supplies to Beirut in the wake of the explosions at the port.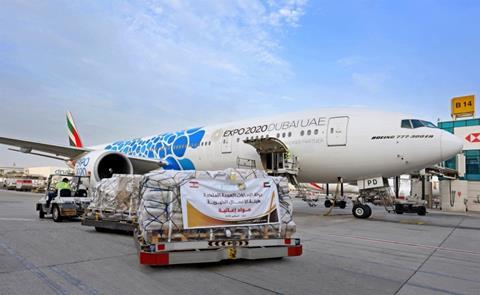 Working with non-governmental organisations (NGO), the airline will coordinate shipments of urgent food, medical supplies, and other much needed items.
Emirates currently operates two daily flights to Beirut utilising its Boeing 777 freighter but plans to add further flights. The airline also said it will provide a 20 percent reduction on airfreight transportation charges for approved shipments.
Sheikh Ahmed bin Saeed Al Maktoum, chairman and chief executive at Emirates, said: "Emirates supports the UAE's ongoing humanitarian efforts to support Lebanon and is committed to bolster its global emergency response to ensure that it can support organisations, which provide urgent care, shelter, food, and medical support to the Lebanese people."
It is also offering the opportunity for individuals to donate or pledge their Skywards Miles though a secure portal via the Emirates Airline Foundation.