With global volumes of personal protective equipment (PPE) starting to fade in June, CLIVE Data Services said that the first real indicators of a structural recovery in the airfreight market are being seen.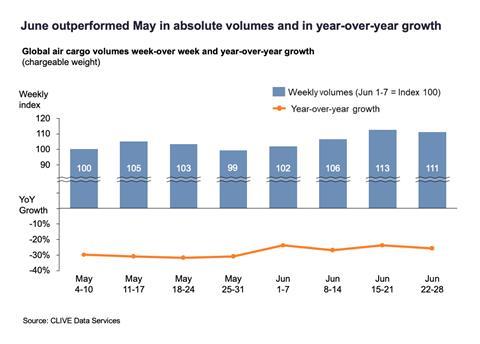 "As governments around the world acted to protect their societies, they became unlikely (price-insensitive) customers of international air cargo capacity for urgent supplies of PPE," explained Niall van de Wouw, managing director of CLIVE. The month-on-month improvements in airfreight volumes can be attributed to these shipments.
Van de Wouw added that the big question has been: what happens when PPE volumes dry up? "Now the noise of PPE is starting to fade, we can see where the industry is really at – and we do see an improvement," he said.
The figures indicate that the industry seems to be slowly getting back on its feet, as volumes in the first four weeks of June 2020 climbed 6 percent, compared to the full four weeks of May. Volumes in the last week of June were 12 percent higher than in the final week of May.
Year-on-year data suggests that global volumes in June were 25 percent lower than the same month in 2019. This is an improvement over the May 2020 figures, when the year-on-year disparity was -31 percent.
"Our June analyses seem to suggest the first steps towards a structural market recovery. Despite the decreasing demand for PPE in June, we still see that the volumes increased over May. We are starting to see a more recognisable airfreight market following more logical economic principles and more logical rates," said van de Wouw.
"The dynamic load factor in June was at a level we did not even see during normal peak Christmas periods, resulting in yields that are still well above the 2019 levels."
However, it is still unknown whether returning general air cargo volumes are a consequence of lower airfreight rates or production starting up again.