The consortium behind the bid for Forth Green Freeport in the UK revealed how it plans to develop Rosyth port and waterfront areas within Fife into a large-scale renewable energy hub.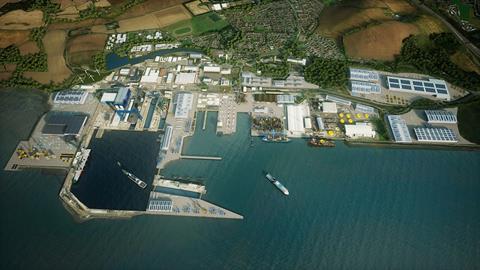 Collectively, Babcock International, Forth Ports and Scarborough Muir plan to develop a freight terminal, offshore renewable manufacturing facilities, and green power generating capacity.
Nealy 150 ha of land will be developed at Rosyth as Forth Green Freeport is established. In addition to the assembly of offshore wind and low-carbon energy generation equipment, sites will support the logistics sector, advanced manufacturing and shipbuilding.
The aim is to deliver sustainable economic growth along the Firth of Forth (Scotland). The consortium said this corridor has a proven skilled labour markets, business expertise and identified sites for development, including those at Rosyth, Burntisland and Energy Park Fife in Methil.
It is expected that Burntisland will be a sister port facility to the newly created renewables hub at the port of Leith, providing further deepwater access and local supply chain capability as offshore wind deployment accelerates. The Forth Green Freeport bid proposes specific tax and customs sites within Fife at Rosyth and Burntisland, respectively.
The Forth Green Freeport builds on Rosyth's location adjacent to the M90 motorway, the Queensferry Crossing, and national rail network. Charles Hammond OBE, ceo of Forth Ports Group, commented: "Scotland needs to boost its international connectivity and our plan for new freight hub and rail terminals will offer manufacturers and shippers a fast-track route to global and European markets directly via the North Sea. Our plan builds upon the recent DFDS announcement, which aims to see the return of a direct daily freight ferry route to northern Europe from Scotland, while offering an alternative to the congested Dover Straits and reducing dependence on road transport, while boosting trade."
On July 17, 2022, Danish ferry operator DFDS signed an agreement with Ptarmigan Shipping to investigate the possibility of a new freight ferry route between Rosyth and the Belgian port of Zeebrugge. Next year, freight services are targeted to resume.