Grimaldi has taken delivery of its latest newbuild ro-ro vessel, Eco Savona, in Nanjing (China) – the fourth of 12 hybrid ro-ro units comprising the Grimaldi Green 5th Generation (GG5G) series ordered from the Jinling shipyard.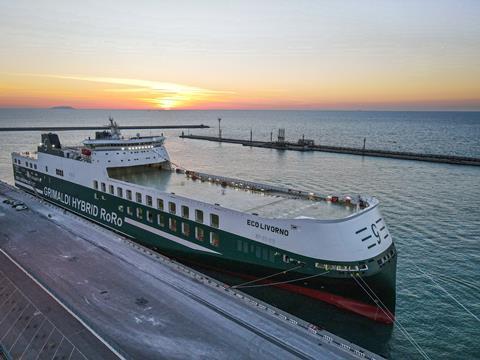 Last week, the carrier christened the third newbuild ro-ro vessel, Eco Livorno, during its inaugural call at the port of Livorno, Italy.
The vessels have a length of 238 m, a beam of 34 m and a gross tonnage of 67,311 tonnes. They can transport over 7,800 linear metres of rolling cargo, equivalent to about 500 trailers. If compared the previous series of ro-ro vessels deployed by the Grimaldi Group for shortsea shipping, the new ships can accommodate double the load on their seven decks, two of which are hoistable. The quarter stern ramp allows the loading of freight units weighing up to 150 tonnes.
During port stays, emissions are reduced to near zero as the ships can use electrical energy stored by mega lithium batteries, which are recharged during navigation with the help of shaft generators and 350 sq m of solar panels. The ships also come equipped with state-of-the-art electronically controlled engines and an exhaust gas cleaning system for the abatement of sulphur and particulate emissions, Grimaldi added.
Eco Livorno now operates on a service linking Livorno, Savona (Italy), Barcelona, and Valencia (Spain). Eco Savona will also be mobilised onto this service, alongside Eco Valencia and Eco Barcelona.