Grimaldi Group will deploy one of its Grimaldi Green 5th Generation (GG5G) ro-ro vessels on its services to Malta.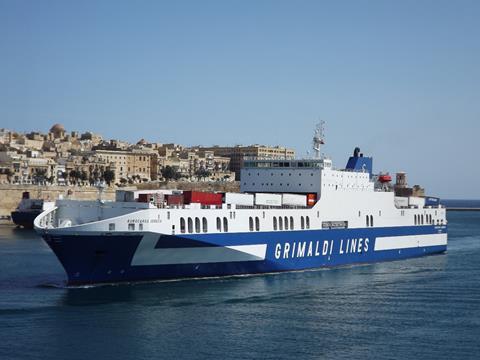 The company placed an order for 12 of the hybrid ro-ro units from Jinling shipyard in China. Last month, Grimaldi christened the fourth newbuild in the series – Eco Savona – during its inaugural call at the port of Livorno, as HLPFI reported here.
The GG5G vessel will strengthen the company's connections between Malta and Genoa, Livorno and Catania in Italy, said Grimaldi. A second GG5G vessel will also be deployed on the route during June.
The GG5G-class vessels have a length of 238 m, a beam of 34 m and a gross tonnage of 67,311 tonnes. They can transport over 7,800 linear metres of rolling cargo, equivalent to about 500 trailers.
The group has implemented various initiatives in recent months to strengthen its presence in Malta.
Malta Motorways of the Sea (MMOS), a Grimaldi Group company, recently strengthened its fleet with the addition of two ro-ro vessels – Eurocargo Catania and Eurocargo Sicilia. MMOS runs a regular service between mainland Italy (Genoa, Livorno, Salerno, and Catania) and Malta under a Public Service Obligation with the Maltese Government to ensure the delivery of essential commodities.
Meanwhile, Atlantic Container Line (ACL) – a Grimaldi Group Company – has been re-flagging its vessels in the last six months as a result of Brexit. A total of nine ACL vessels have switched from the UK to the Maltese flag, with another ship due to change in the coming months.