South Carolina Ports Authority's (SCPA) Hugh K. Leatherman terminal – a container terminal in North Charleston, USA – has welcomed its first vessel.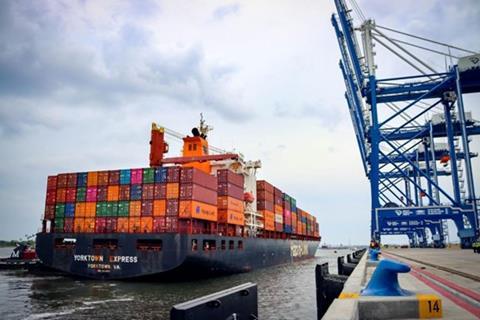 The arrival of Hapag-Lloyd's Yorktown Express marked the start of operations at the terminal, which has been 20 years in the making.
The final concrete pour for the wharf deck at the terminal was completed in July last year; foundations were installed and steel erection work started for the six-storey refrigerated container racks in 2020, as HLPFI report here.
Jim Newsome, ceo at SC Ports, said that the opening of the terminal comes at just the right time, as container ports in the USA continue to handle unprecedented volumes amid strong consumer demand. SC Ports had an all-time cargo record in March 2021, with a 50 percent year-over-year increase in loaded imports.
SC Ports said the terminal's equipment, technology and design will provide much-needed capacity to the East Coast of the USA. It features a 1,400 ft (426.7 m) berth that can handle a 20,000-teu vessel. Five electric ship-to-shore cranes with 169 ft (51.5 m) of lift height and 228 ft (69.5 m) of outreach stand on the berth, ready to move cargo on and off container ships.
The terminal also features a 47-acre (19-ha) container yard with 25 hybrid rubber-tyred gantry cranes and eight empty container handlers to move cargo boxes around the terminal.
The SC Ports' team oversaw the selection, design and fabrication of the cranes overseas and then coordinated the equipment arrivals. The rubber-tired gantry cranes are designed to reduce emissions and energy consumption, the port said.
The Hugh K. Leatherman Terminal is part of SC Ports' USD2 billion infrastructure investment plan, which also involves enhancing its Wando Welch Terminal.
Furthermore, SC Ports' Charleston harbour deepening project is under way, which will achieve a depth of 52 ft (15.8 m) and allow post-Panamax vessels to call on the port of Charleston. SC Ports is also looking to develop near-dock rail capabilities with the future Navy Base Intermodal Facility, located approximately 1 mile (1.6 km) from the Leatherman Terminal, and an inner-harbour barge system.