Significant progress has been made on the latest phase of a USD109 million (GBP83.5 million) berth enhancement project at Jacksonville Port Authority's (Jaxport) Blount Island Marine Terminal in the USA.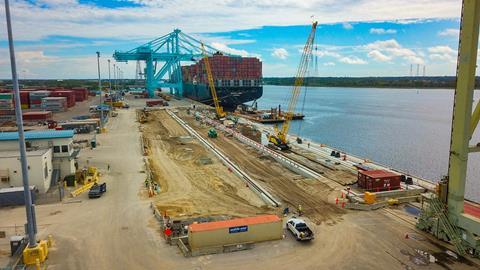 Works are expected to be completed in December 2020 and will see 700 ft (213.3 m) of rebuilt deepwater berthing space added to SSA Jacksonville container terminal at Blount Island.
The final phase of the project, which will see a further 700 ft built, is due to be completed by the end of 2021.
Combined with the first phase of berth enhancement, which has been underway since 2017, the SSA Jacksonville container terminal will feature two reconstructed 1,200 ft-long (365.8 m-long) container berths. The berths are electrified to handle a total of six environmentally friendly electric-powered container cranes – three of which are already in operation.