Towage service provider Kotug International has established an inland shipping division, which will provide electric-powered pusher tugs.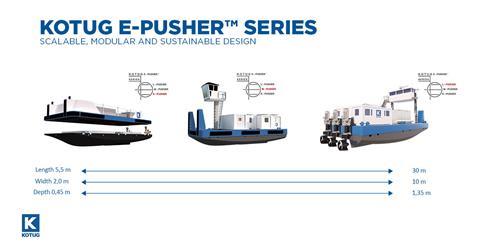 Kotug has launched the division following the development of its E-Pusher series of modular and scalable electric pusher tugs that are powered by swappable energy containers.
The E-Pusher series currently has three models ranging from 5.5 to 22 m in length and a maximum depth of 0.45 to 1.35 m, resulting in a draft that is 30 percent less than conventional pusher tug designs, according to Kotug.
The division will also provide AI-driven dispatch and route planning applications such as OptiPort – Kotug's automated dispatching system. The company said the tool supports fleet owners in optimising expected departure and arrival times, routing, and speed control, leading to reduced energy usage and just-in-time departure and arrival.
These logistics solutions, Kotug explained, will support the worldwide energy transition and the modal shift from road transport to waterways, whilst meeting the growing demand for electric-powered vessels.
"As an innovative company we have created ready-to-market products for the inland shipping industry by combining our technical expertise of ship design and digitisation of the marine industry," Jan Kooren, ceo of Kotug, said.