HLPFI is pleased to announce that Lift & Shift India has won the Overland Transport Provider of the Year award, sponsored by Goldhofer, at the Heavy Lift Awards 2020.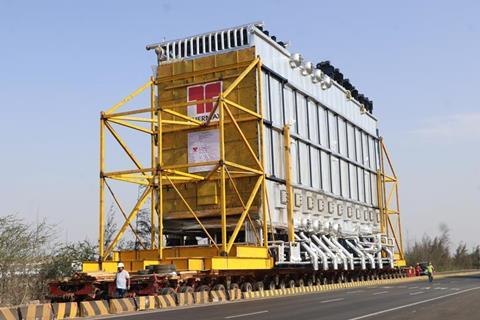 All of our finalists in this category entered impressive overland projects that demonstrated their commitment to the safe, efficient and innovative transport of heavy and oversize project cargoes, but our judges were particularly impressed by Lift & Shift India.
The company won the award for the delivery of some of the largest and heaviest boilers and heat recovery steam generator (HRSG) modules built in India for a refinery project in Nigeria. Lift & Shift worked with the manufacturer, Thermax, from the early stages of the project and provided a solution to move the cargoes from a yard in Mundra to Adani port.
The judges commented that Lift and Shift's work required innovative solutions and engineering. The company demonstrated true teamwork and flexibility, with a well engineered, planned and executed project particularly in consideration of the challenging environment and preparation required.
HLPFI would like to thank everyone that entered this year's Overland Transport Provider of the Year award and say a massive well done to the other finalists in this category – Barnhart, Collett & Sons, Fagioli, Mammoet, Orient Heavy Haulage and Spedition Kübler.
You can see more about all of the shortlisted entries here.