Construction of the future New Bedford Foss Marine Terminal in the USA is progressing, with the implosion of a smokestack as part of the demolition of the old power station building at the site.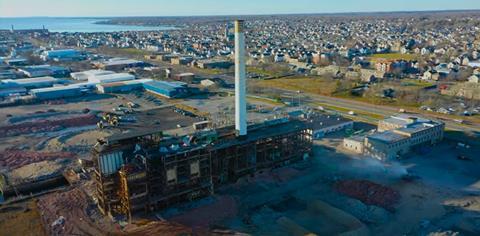 The New Bedford Foss Marine Terminal will support offshore wind projects off Massachusetts and the north-eastern coastline. The former Sprague/Eversource site was selected for its proximity to offshore wind blocks located approximately 15 miles (24 km) south of Martha's Vineyard and Nantucket islands, as HLPFI reported here.

The terminal, slated to open in spring 2023, will provide storage and laydown areas for equipment and materials, and berth facilities for a range of vessels such as crew transfer vessels, service vessels, and Foss tugs and barges.
It will also house new office space for project teams, crew marshalling facilities, workspaces and a marine coordination centre for technicians.
"The implosion of the smokestack symbolises a point of cleaning up the site and transitioning to clean energy," said Andrew B. Saunders, president of the New Bedford Foss Marine Terminal.