P&O Maritime Logistics has modified one of its multi-carrying vessels (MCV) to transport containers, marking its entry into the box transportation sector.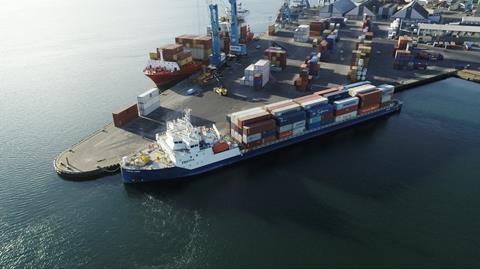 The development comes off the back of recent work with Unifeeder on providing services on container routes with low numbers of containers. P&O Maritime Logistics' container-fitted MCV can handle 20 ft, 40 ft and 45 ft containers alongside general and oversized project cargo.
"The new model of container carrying MCVs provide a solution to the high demand of container carriers in Europe – alleviating pressure on supply chains being felt across the continent and worldwide. Container fitted MCVs are ideal for lower volume, high frequency shortsea routes as well as trade routes through rivers and to shallow water ports like the transit between Turkey and the Caspian via the Russian rivers, where multiple vessels are expected to be employed next year," said P&O Maritime Logistics.
Five additional vessels are expected to undergo conversion in the future.
Martin Helweg, ceo of P&O Maritime Logistics, said: "With five more vessels slated to enter the containerised market, we'll soon be servicing niche trade lanes stretching from the Americas to Southeast Asia. We'll be working closely with our parent company DP World in rolling out of containerised service, beginning with fellow DP World-owned company shortsea feeder service provider, Unifeeder."
Currently, several MCVs are delivering wind turbine blades, large process modules, reactors, and pressure vessels on shortsea routes and in the open season of the Volga Don Canal, with further deliveries are expected in 2022.