Pentagon Freight Services' Dartford office arranged a short-notice air charter for the delivery of 66 crates from Prestwick airport, Scotland, to Rio de Janeiro, Brazil.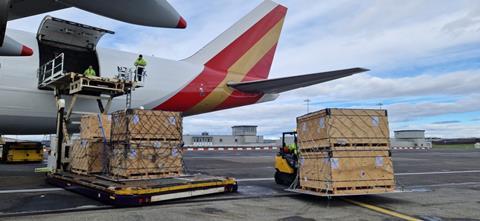 77 tonnes was loaded aboard a Boeing 747-400F in Scotland. Project manager, Gaby Choufani, and key account operative, Lara Hone, worked together to price and secure the aircraft, liaising with the supplier to finalise the cargoes across eight sets of air waybills (AWB).
The aircraft flew to Rio de Janeiro with a stopover in Las Palmas, Gran Canaria, for refuelling. It arrived at its destination without issue, allowing the cargo to move safely and efficiently to the site, said Pentagon.