A new pre-assembly site developed by Siemens Gamesa and Port Esbjerg (Denmark) has conducted its first load-out – offshore wind energy equipment destined for RWE's Kaskasi project.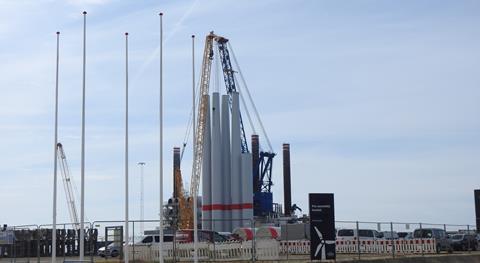 Located 35 km off the coast of Heligoland in the North Sea, Kaskasi will be part of the Heligoland Cluster together with the Amrumbank and Nordsee Ost projects. The North Sea offshore wind market is forecasted to experience unprecedented growth in the coming years. As stated in the recent Esbjerg Declaration, the German chancellor and prime ministers of the Netherlands, Belgium, and Denmark agreed to develop the North Sea as the green power plant of Europe and install 150 GW of offshore wind energy capacity by 2050.
Dennis Jul Pedersen, ceo of Port Esbjerg, said: "Given that the Esbjerg Declaration was signed on the site which we developed together with Siemens Gamesa, the first load-out for the Kaskasi offshore wind project also showcases our commitment to the plan for offshore wind in the North Sea."
Port Esbjerg has plans for two additional pre-assembly sites to be completed in 2023, which will cater for the installation of a minimum of 3 GW of offshore wind each year. This will be supported by an ongoing port expansion, which will add further areas for storage of main components before installation.
Port Esbjerg said that it has been involved in the installation of 55 offshore wind farms in Europe and this has developed a significant supply chain capable of supporting the installation of offshore wind farms.