AAL Shipping has held a steel cutting ceremony for the first of its six Super B-Class newbuilds.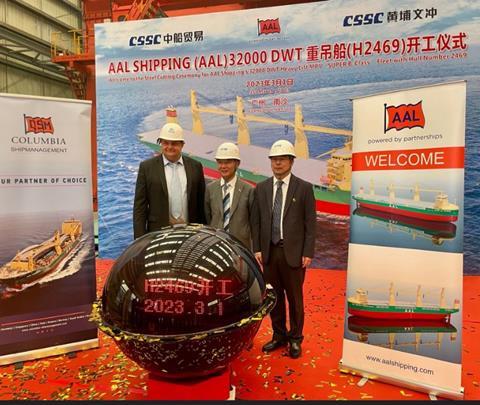 The ceremony for AAL Limassol took place at the CSSC Huangpu Wenchong Shipyard in Guangzhou, China. In attendance was general manager of AAL China, Jack Zhou, and Rangel Vassilev, project manager at sister company Columbia Shipmanagement (CSM).
AAL placed its initial order for the units during late 2021, as HLPFI reported here.
The mega-size vessels will measure 179.9 m in length, with a beam of 30 m, a depth of 15.5 m, and a low ballast draft of 6.5 m. Each vessel will be capable of carrying up to 80,000 freight tons of breakbulk cargo.
The weather deck will provide 4,500 sq m of clear cargo loading space, with extendable pontoons along the starboard side to further expand on-deck stowage.
Upon completion, the Super B-Class vessels will meet the highest standards for automation and emissions, said AAL.
Five of the vessels will be named after major breakbulk ports: AAL Antwerp, AAL Hamburg, AAL Houston, AAL Dubai and AAL Dammam. While AAL Limassol is named after the town where AAL's story first began in 1995.
"AAL's Super B-Class vessels were designed by our engineers to be the most advanced multipurpose vessels in the water, leveraging AAL's nearly 30 years' expertise in handling heavy lift, breakbulk, and dry bulk cargo," said Kyriacos Panayides, ceo of AAL Shipping.
"Work has now begun to bring our dual-fuel Super B-Class concept to reality, and we are looking forward to leading the way in efficient, sustainable shipping solutions, while setting new standards in cargo safety and intake."