AAL Shipping has transported 20,000 freight tons of iron ore reclaimer components on its monthly Asia to Australia West Coast liner service (AUWC).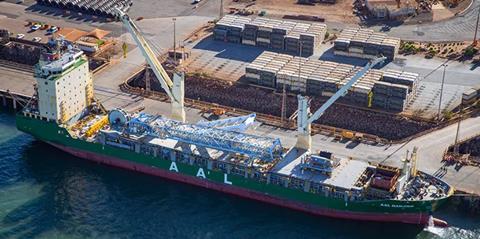 The project was organised by global logistics provider NMT and its client thyssenkrupp Industrial Solutions from Henderson to Port Hedland in Western Australia. The largest item was a 65 m-long bucket wheel boom.
AAL said the design and planning stages of the operation with NMT and thyssenkrupp took seven months to organise. Nicola Pacifico, head of transport engineering, AAL Shipping, said: "Due to the large and unconventional size of the reclaimer components, which covered a total area on the vessel of more than 1,800 sq m, the lifting and stowage challenges were significant.
"The collaboration proved successful, and the cargo was safely discharged in Port Hedland on schedule for onward transport to Nelson Point, where it will be used in the handling of iron ore."
Frank Mueller, general manager of AAL Australia, added, "We are delighted to continue our strong track record for NMT and Thyssenkrupp Industrial Solutions, both of whom we are proud to have worked with in the past on domestic industrial projects across Australia.
"The local multipurpose shipping market is still challenging since Covid-19, with port disruptions and labour issues affecting schedules and normal operations. The Australian project sector itself has also experienced upheaval and will continue to weather difficult external conditions until a possible peak of investment of AUD95 billion (USD65.7 billion) per annum in planned infrastructure between 2023-24 and 2025-26."