UECC is expanding the use of carbon-neutral biofuels in its logistics chain through a partnership with towage provider Svitzer.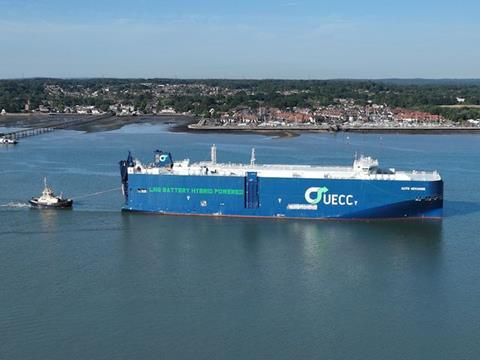 The two companies have signed a three-year contract for Svitzer's EcoTow product that will see biofuels introduced on Svitzer tugboats performing towage operations for UECC's pure car and truck carriers (PCTCs) calling at Scandinavian ports. This will result in a reduction of almost 25 percent in UECC's seaborne Scope III emissions – covering indirect emissions associated with business operations across the value chain.
UECC estimates that its CO2 emissions from towage operations at the ports of Esbjerg, Gothenburg and Malmo will be reduced by more than 300 tonnes over the term of the agreement. "With this agreement, UECC once again positions itself in front of the market, demonstrating that decarbonisation projects are scalable and available," said UECC's energy and sustainability manager Daniel Gent.
Biofuels are among the most effective fuels for decarbonisation in the short term as these are readily available. UECC has been using biofuels on its Autosky over the past two years to cut annual carbon intensity by around 60 percent.
Gent said there is an increasing commercial incentive to reduce the carbon footprint of ship operations due to upcoming regulatory measures that are set to spur biofuels demand.
These include the proposed expansion of the EU's Emissions Trading System (ETS) to include shipping within the next two years that could raise the cost of consuming fossil fuels by around 50 percent, based on a current carbon price of around EUR80 per tonne of CO2.
Shipowners will have to meet more stringent environmental performance standards with implementation of the IMO's Carbon Intensity Indicator from January 1, 2023 and the FuelEU Maritime regulation due to be phased in from 2025.
Svitzer is a wholly owned subsidiary of AP Moller-Maersk.