Wallenius Wilhelmsen has unveiled its latest sustainability initiative – the Orcelle Wind pure car and truck carrier (PCTC). The vessel will be powered by a wind-propulsion system and can achieve up to 90 percent reduced emissions compared to today's vessels.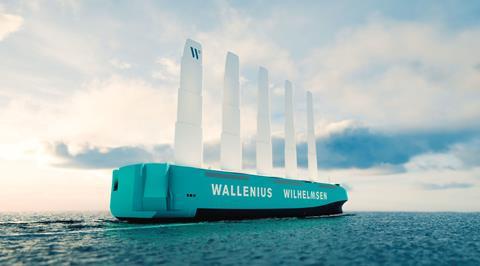 Building upon the Oceanbird concept developed by maritime consultancy Wallenius Marine, Wallenius Wilhelmsen said that it is in the process of finalising the specification of the wind-powered PCTC, adding that it will act as a "testbed" for other zero-emission fuels and technologies.
Wallenius Wilhelmsen's goal is to have the design ready for contracting with a shipyard by mid-2022. A finished vessel could be in operation by 2025.
"Since 2008, we have been able to reduce CO2 intensity by 33 percent, which is a significant step. But the journey towards zero emissions requires great strides forward. We believe the Orcelle Wind is one of them," said Craig Jasienski, ceo at Wallenius Wilhelmsen.
It is anticipated that the ship will have an overall car capacity of 7,000 vehicles and the ability to carry heavy machinery and breakbulk cargo. The dimensions of the PCTC are expected to be around 220 m long with a beam width of approximately 40 m.
It is hoped that the vessel could achieve speeds of 10-12 knots under sail, which can be increased with a supplemental power system.
Roger Strevens, vice president of global sustainability at Wallenius Wilhelmsen, described the concept as "going back to the future" and that shipping companies will require a suite of lean, green solutions to meet the current sustainability demands. "Orcelle Wind is a prominent initiative among them, but it is just one… we keep an open mind on where the next solution may come from or what form it may take," he said.
While the future is filled with uncertainties and unknowns, there is one thing that is assured: "At the end of it all, there will still be shipping," said Strevens.