DYT Superyacht Transport will unveil its semi-submersible newbuild vessel Yacht Servant at this year's Monaco Yacht Show.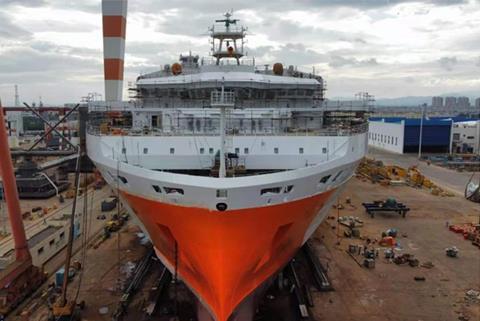 The float-on, float-off vessel is designed solely for the transportation of yachts and features a specialised deck located behind the bridge to accommodate tenders, containers and small race boats. The semi-submersible is LNG-fuel ready, for when global bunkering infrastructure becomes available.
Yacht Servant stands at 213.7 m in length with a 46 m beam and 4.6 m draft. Tank tests have shown that the IMO Tier-III compliant vessel is 32 percent more fuel efficient than its predecessors. Moreover, the vessel's 6,380 m squared deck facilitates the transport of more vessels per crossing, including deep draft sailing yachts, DYT Superyacht Transport said.
"There is a lot to say about Yacht Servant, but her size is a big factor because she has a much larger intake, which means she can carry more yachts," said Richard Klabbers, managing director of DYT Yacht Transport. "But the main difference is that we can accommodate a greater load with much less draft, thanks to the vessel's unique design."
Whereas the current vessels in DYT's semi-submersible fleet require operating water depths of around 14 m, Yacht Servant only requires an operating water depth of 9m. "It means we can dock at ports with shallow water, such as in Italy and the Caribbean, and go to smaller islands around the world," said Klabbers. "But once completely submerged, we actually have more water depth to sail in than before, giving us the flexibility to load larger yachts."
DYT Transport will be located at stand AL34 at the 2021 Monaco Yacht Show, which takes place September 22-25.