Wind-assisted propulsion specialist Econowind has been contracted by Tharsis Sea-River Shipping to install two of its TwinFoil units on the diesel-electric general cargo vessel Tharsis.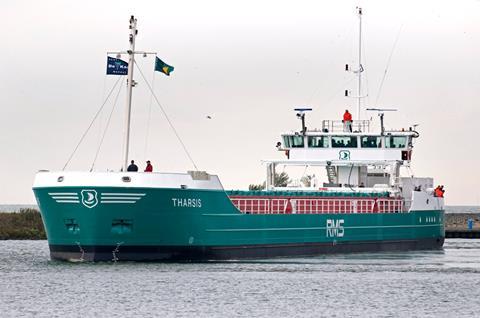 "We always try to use as little as fuel as possible on our weekly voyage from Duisburg to the east coast of the UK, using currents and tides and optimising our schedule. Adding wind-assisted propulsion will further reduce our fuel consumption," said Jan Albert Bosma, co-owner of Tharsis Sea-River Shipping.
Two 3 m x 9 m TwinFoil units will be installed aboard the 88 m-long, 2,364 dwt general cargo vessel. Work will be finished in February 2021.
The Econowind units are both integrated in a bespoke aluminum flatrack from which the folding TwinFoil's can be deployed. The TwinFoil is a wing with a flap principle similar to those used by aircraft during landing and takeoff. Setting the wings optimally relative to the wind will be done by a small third steering-wing. The Netherlands-based NG shipyard will install the system.
"We are very happy to bring our experience in the specific challenges in this project. We specialise in lightweight but durable constructions at sea and focus on high performance ships with sustainable propulsion," said Albert Keizer, ceo of NG.
Bosma added: "We look forward to evaluating the wings and do research together in the Wind Assisted Ship Propulsion (WASP) project, part of the EU Interreg North Sea region programme."
The WASP project is funded by the Interreg North Sea Europe programme, part of the European Regional Development Fund (ERDF) and brings together universities and wind-assist technology providers with ship owners to install, research, trial and validate the operational performance of a selection of wind propulsion solutions.