HLFPI is pleased to announce that the winner of the Heavy Lift Awards 2020 Lifetime Achievement award is industry stalwart Svend Andersen.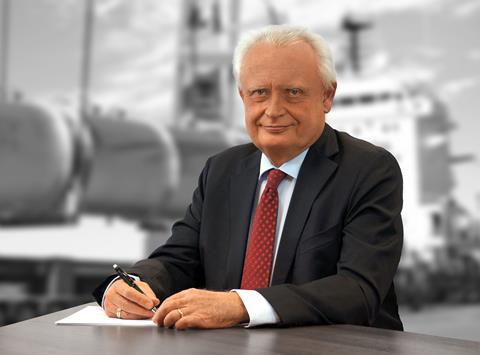 The Lifetime Achievement Award recognises a lifetime of innovation and leadership, and is presented to an individual that has made a long-lasting impact on the heavy lift, specialised transport and project forwarding industry.
Our judging panel had nothing but praise for Andersen and his achievements in the heavy lift and multipurpose shipping industry. "His wealth of knowledge and experience meant he was always the person to go to for market clarity. Added to that, he imparts that wisdom with grace and generosity. A very worthy recipient of this award," said one of our judges.
Another commented: "Knowing Svend for many years and having worked with him as competitor as well as customer, it was always a pleasure how he approached business, partnership and trust. A truly super professional with a heart for people, which is proven by how he built his teams across the world!"
In an interview with HLPFI, Andersen said: "I am really happy to receive the award. I have never had anything like that in my life before. This is an honour to receive, of course, but I have to work a bit more now!"
HLPFI reported earlier in October that SAL Heavy Lift acquired a majority stake in Intermarine. Andersen opened another chapter in his career by joining Intermarine as its ceo.
"I had planned to go into retirement and have a good time. I will still have a great time of course, but this opportunity [with Intermarine] came up. I thought about it, but not for long, and said 'why not?' It sounded like the right combination and the right challenge," he said.
History
Andersen has had a long and distinguished career in the marine shipping sector, with his reputation truly cemented at German multipurpose/heavy lift carrier BBC Chartering.
"To a certain extent I have always been in this segment. I started as a trainee many years ago in about 1972 and later joined a company called Frosig and Jorgensen," said Andersen. He went on to found Copenship in 1978, before becoming the owner of his own company, S.A Shipping, in 1981. In 1993, he joined Intermarine, having worked closely with carrier, for a two-and-a-half year spell.
"That's when I came more into contact with the heavy lift segment, not that I wasn't involved before, with the liner service and other things. After that, I wanted to come back home to Denmark."
Andersen eventually repositioned to Hamburg working as a broker at Carsten Rheder to help establish Intermarine's transatlantic service before new challenges presented themselves. In 1996 he began working with Bruno Bischoff and, shortly thereafter, a joint venture with Briese Schiffahrt resulted in the formation of BBC Chartering.
"I was in the industry with BBC Chartering for 23 years and it was a really fantastic time – a great challenge with fantastic guys working within the company … it remains a great company today, the biggest in the world in this segment. BBC has been good over the years because of the teams it has all around the world.
"It is really amazing how those 23 years were for me – they are really something that I will always look back on fondly," he commented.
Pearls of wisdom
Always humble, Andersen accredited the success of BBC Chartering to the staff.
"The success was not only because of me – not at all – it was the people within the company that have done great. It is always better to find somebody better than yourself – you always have to do that."

Svend Andersen.
"For me, it was always the people that make the difference. People make the business and we had very good ones – many are still there at the company now. The success was not only because of me – not at all – it was the people within the company that have done great. It is always better to find somebody better than yourself – you always have to do that," he said.
When asked what advice he would give a new entrant to the business, Andersen stressed the importance of understanding the people and cultures that make it.
"I had a great time and of course the times have changed a lot since I started. I believe myself to be a humble person: you have to know the business, you have to get along with people; you learn different ways of doing business with those around the world.
"You learn a lot about a person when you meet them. You have a better understanding of their needs, how they react, and how you need to react yourself. It is important that you then learn about the different cultures and try to understand them. I don't always understand how it works, but at least you try and work with it and how they would like to work."
With a question mark hanging over the prevalence of international travel in the future, Andersen was quick to highlight its importance to his career: "Maybe people will not have to travel as much as I did. I was travelling a lot but it was important for me to reach people and get to know the customers, and those that were working for the company.
"I think that this is going to be a bit different in the future but it is still important that people have a relationship with customers and staff around the world … Whether it will be like that in the future is difficult to say. I hope that as a business we do not completely lose that aspect."
HLPFI and our judging panel extend their heartfelt congratulations to Svend on winning this award. His contribution to this industry was neatly summarised by one of our judges, who said: "While many other shipowners went down the drain, Svend was able to withstand the storm and establish BBC as a reliable partner in the market. Obviously he had a flair for the right people and the right decisions."
He is a worthy winner and we wish him every success in the future. Congratulations!