USA-based maritime and logistics company Crowley has held a ribbon-cutting ceremony for its wind services office in Eureka, California.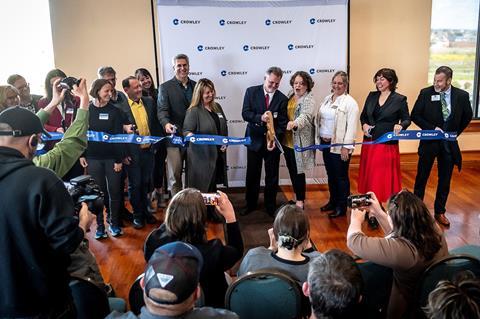 Crowley confirmed the opening of the Eureka office as part of its plans to develop an offshore wind terminal at the port of Humboldt Bay earlier this month, as HLPFI reported here.
"We are excited to advance our collaboration with the community to help create and support renewable, clean energy from offshore wind," said Jeff Andreini, vice president, Crowley Wind Services. "The establishment of our new office is just the start of our mutual actions to successfully invest in the region, workforce and sustainable wind energy in California."
Services at the Humboldt Bay Offshore Wind Heavy Lift Marine Terminal will support tenants in the manufacturing, installation and operation of offshore wind floating platforms, the use of large heavy cargo vessels and provide crewing and marshalling services in the Pacific waters.
Larry Oetker, executive director of the port of Humboldt Bay, said: "The partnership that the port of Humboldt Bay has with Crowley will facilitate the first commercial scale fully assembled floating offshore wind platforms off California and position Humboldt Bay as the primary offshore wind port on the west coast."