Glenn Murphy has succeeded Susan Oatway as the international chair of the Institute of Chartered Shipbrokers.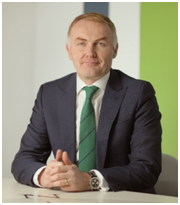 Murphy has been vice chairman of the institute for the past two years, a role that will now be held by Luis Bernat, a former chairman of the Denmark branch.
Murphy has over 30 years of experience in international shipping. He runs his own shipbroking firm based in Dublin and he previously served as a director of the marine institute and also on the board of the National Maritime College in Ireland.