German entrepreneur Otto Rettenmaier – founder of the TII Group – passed away on July 23, 2020 at the age of 93. Everyone at HLPFI extends their heartfelt condolences to his family, loved ones and colleagues.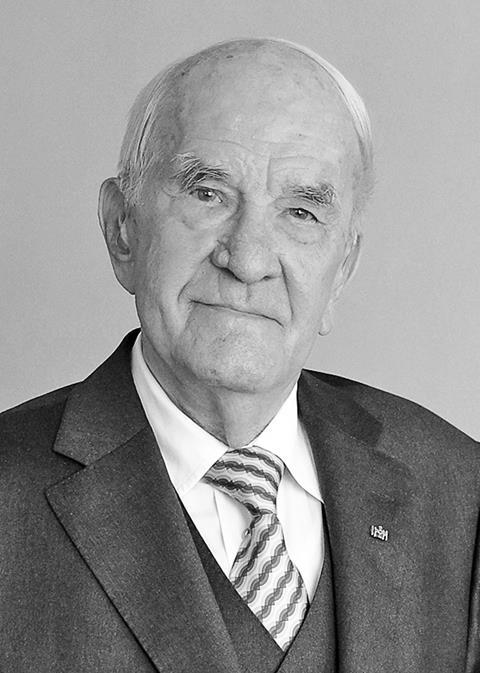 In an illustrious career, Otto Rettenmaier was awarded the Federal Cross of Merit First Class of Germany – an honour presented to those that have made outstanding achievements that served the rebuilding of the country in the fields of political, socio-economic and intellectual activity.
He was born in 1926 in the Swabian town of Holzmühle near Ellwangen. After studying business administration at the Technical University of Stuttgart, he joined his parents' company, Faserstoffwerke J. Rettenmaier & Söhne (JRS). He founded the Heilbronn site and developed JRS into a world-leading organic fibre business alongside his older brother Josef. Over the following decades, Otto Rettenmaier was an active investor in various industries.
Otto Rettenmaier took over Pfedelbach-based heavy-duty and industrial vehicles manufacturer Scheuerle in 1988 in move he described as "out of technical fascination". This laid the foundation for the development of TII Group: Nicolas (France) was acquired in 1995; Ulm-based Kamag followed in 2004; TII India was formed to service that growing region.
TII Group has grown to a market-leading company for heavy-duty vehicles with a payload of over 100 tonnes. The current record weight transported by TII Group vehicles is 17,500 tonnes.
Otto Rettenmaier had been married to his wife, Lore, since 1959, with whom he has two daughters, one son and eight grandchildren. Throughout his life, Otto Rettenmaier's family ties played an important role. His daughter, Susanne Rettenmaier, manages the family holding company as managing partner, together with a professional board of directors.
The Rettenmaier family of entrepreneurs said that it remains committed to the successful continued existence of the TII Group by means of its external board of directors, the external management under the chairmanship of Dr. Gerald Karch, and the executives and workforce of the group. The TII Group said it has recorded a "pleasingly good result in the first half of the year despite uncertain coronavirus times".