Modulift has, for the first time, manufactured corner units for its CMOD 250 spread beam.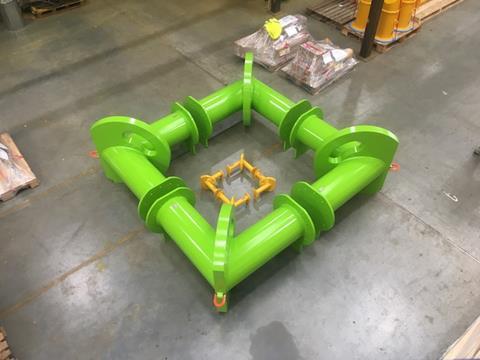 The CMOD 250 has a working load limit of 300 tonnes and can reach spans of 20 m x 20 m. The corner units come with an improved design that reduces the contact stresses between the top shackle bow and corner unit centre plate. The design has two rounded contact faces, enabling the shackle bow to contact efficiently.
The corner units can be used to transform the CMOD 250 beam into a frame, said the under-the-jib equipment manufacturer.
Netherlands-based Safe Lifting Europe was the first customer to receive the equipment, which will be used for a lift later in the year. Jacques Vroegop, operations manager for Safe Lifting Europe, said: "Modulift always has a solution for us when we have a complicated lift and we were surprised with the CMOD 250. The size of span that it can reach is phenomenal, it really can be a huge frame and we can't wait to use it later in the year."
A second set of CMOD 250 corner units conforming to ASME cat B are being shipped to the USA via Modulift's partner I&I Sling to facilitate a heavy lift for a shipbuilding company.