UAE-based crane and heavy transport company Al Faris Group has added 24 Liebherr mobile cranes to its fleet.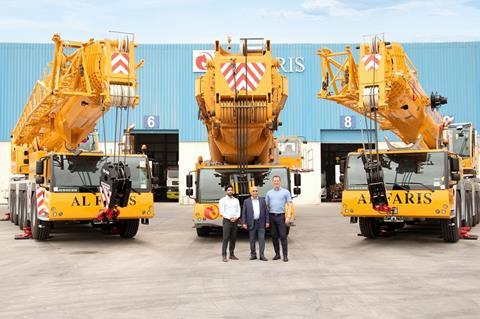 The delivery covers a range of models with lifting capacities from 110-700 tonnes, including four LTM 1500-8.1s with a lifting capacity of 500 tonnes.
The new LTM 1500-8.1s add to Al Faris' existing 15 units of the same model. Liebherr said these four units are the last of their kind to be produced. In total, Liebherr has sold over 600 of them worldwide.
Al Faris also ordered 27 Liebherr mobile cranes at the 2022 bauma trade show in Munich, Germany. That order included six LTM 1300-6.3s.
Keonne Pinto, Al Faris shareholder, said: "The concept of the LTM 1300-6.3 with its 90 m telescopic boom combined with compact dimensions is perfect for universal operations here in the Middle East, especially in the energy sector."
Meanwhile, the group recently established a range of energy solutions in Saudi Arabia, as HLPFI reported here.