Spain-based crane rental company Grúas Aguilar has utilised a Liebherr LR 1700-1.0 mobile crane and an LR 1600/2 crawler crane to assemble girders for a retractable roof at Real Madrid football club's stadium, the Estadio Santiago Bernabéu.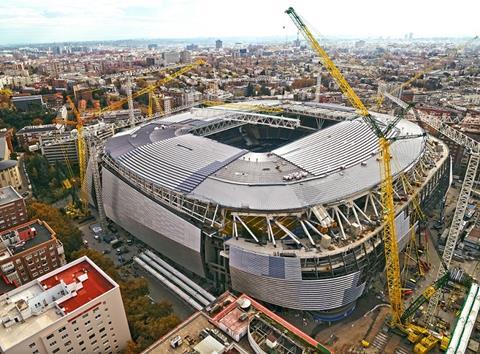 The two cranes lifted 12 cross beams, which weighed 72 tonnes and measured 72 m long, to a height of 70 m.
Liebherr said the original plan was to assemble the cross beams using a single crane. However, due to limited space at the construction site, and the large assembly radii (70 to 118 m) of the cranes, Grúas Aguilar opted for tandem lifts with the cranes positioned outside the stadium. The boom of the LR 1600/2 had to be mounted in a car park near the stadium.
To ensure safe assembly, Grúas Aguilar's design department planned the movements of each girder in advance. They took into account the angles of the main boom and luffing jib of the cranes in each phase so that its operators could have a clear view when lifting the beams into the stadium.v