Danish heavy lift and engineering transport company BMS has bolstered its heavy-duty trailer fleet.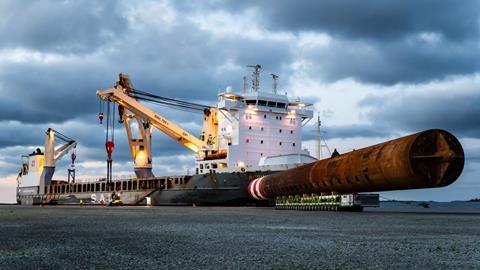 BMS has purchased an additional 300 axle lines of SPMTs. The heavy-duty trailers will be used for, among other things, floating foundations of offshore wind energy projects. The order brings the company's fleet of SPMTs to more than 500 axle lines.
In September this year, BMS Heavy Cranes introduced its all-electric ring crane, which can lift up to 3,000 tonnes. The crane was assembled at Østerild, Denmark. It has been optimised for operations in the wind energy industry, with the capability to lift components weighing 1,200 tonnes at a height of up to 225 m, and heavy structures of 3,000 tonnes at reduced height.
BMS said the crane will be used for the next two years lifting large test turbines. Thereafter, the crane will be mobilised for the installation of offshore wind turbines from the quayside, as well as jobs at large power plant projects.