Spanish crane service provider Grúas Cigales has taken delivery of a Tadano ATF 60G-3 all-terrain crane.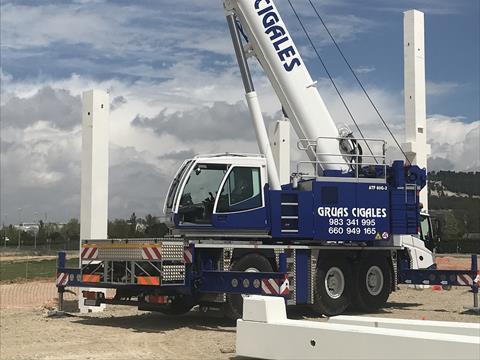 According to Tadano, the ATF 60G-3 is the first crane of this model to be delivered in Spain by the company.
Santiago Rodríguez, owner of Grúas Cigales, pointed to "numerous technical advantages" of the crane, including the Hello-Net intelligent fleet management system, which can be used to take care of all the servicing and maintenance planning.
Rodríguez was also impressed by the engine's placement at the back of the superstructure, which ensures that the ATF 60G-3 has an optimal axle load distribution. With this layout, Tadano explained, it is the only 60-tonne crane on the market that can travel on public roads while staying under an axle load limit of ten tonnes and carrying a hook block with a 20-tonne load capacity.
Moreover, the crane is particularly suited to working in constrained spaces due to its tight slewing radius. Its compact boom, Tadano added, not only helps in tight spaces but also makes it versatile.
The main boom features seven telescoping sections instead of the usual six, which enables the ATF 60G-3 to get to a reach of up to 48 m outdoors while also being extremely versatile inside buildings with low ceiling heights thanks to a short 9.5-m main boom base section, said the manufacturer.