Lankhorst Ropes is supplying Heerema Marine Contractors with LankoForce heavy lift slings manufactured with Dyneema SK78 fibre produced using post-consumer plastic waste as a feedstock.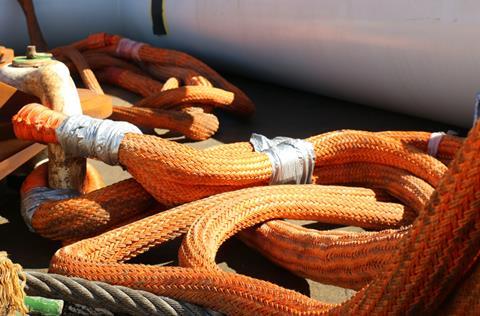 The slings will be used on a four-point lifting frame for an offshore project.
Meike Kolthof, Heerema's general manager sustainability, said: "As part of Heerema's circular ambitions we are happy to be supplied with Lankhorst's recycled slings as an industry first. Introducing sustainable slings aligns with our internal goal to eliminate waste and is evidence of our commitment to sustainability across all aspects of our business."
DSM is producing recycled-based Dyneema using ethylene from mixed plastic waste as a pilot project. This recycled-based fibre used for the LankoForce slings in this specific offshore lifting project has the same assured performance as conventional and bio-based Dyneema SK78 fibre.
Marcel van der Molen, sales director domestic, heavy lift and EPCI at Lankhorst Ropes, added: "We already use bio-based Dyneema SK78 for the manufacturing of our 12-strand braided LankoForce HL slings. By introducing post-consumer plastic waste as a feedstock, the industry is going a step further towards preventing valuable plastic from becoming waste and reducing carbon emissions from waste disposal."
To drive the transition towards renewable bio and recycled based resources, CirculariTeam, a coalition of DSM, Lankhorst Ropes and other leading industry partners was formed in 2021. CirculariTeam provides a common platform to share knowledge, resources, and technological solutions.
"Lankhorst Ropes is committed to reducing the environmental impact of rope manufacture and use. Introducing recycle and reuse solutions, such as bio-based Dyneema and post-consumer plastic waste as a feedstock, is just one of the ways Lankhorst and CirculariTeam is working to improve material sustainability. We will continue to work production partners, including DSM, and industry operators like Heerema to enhance the sustainability of the maritime and heavy lifting industries," commented Rui Faria, managing director at Lankhorst Ropes.