AAL Shipping has delivered a cable carousel measuring 23 m in diameter (73 m circumference) to Jan De Nul Group, which will be used at the Formosa 2 offshore wind farm project off the coast of Taiwan.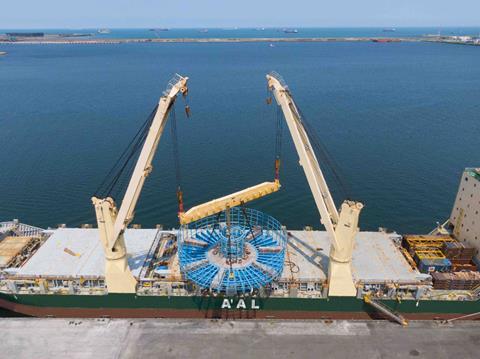 The cargo was loaded in Jebel Ali and transported on deck of the 19,000 dwt multipurpose vessel AAL Nanjing to the project marshalling port in Taichung, Taiwan. AAL said the carousel is one of the first major components to be delivered to Taichung port for this project, where works have started to develop Formosa 2's operations and maintenance base.
Yahaya Sanusi, deputy head of AAL's transport engineering department, said the carousel weighed 370 tonnes. The unit was loaded and discharged using both of Nanjing's cranes; it was rigged in three points to a 22.5 m lifting beam (with a safe working load of 637 tonnes), which proved to be the safest solution for the lift.
"Safe to say that we do not leave any stone unturned when planning the optimum transport solution for such complicated cargo shapes and sizes," he added.