AAL Shipping has transported 22,400 cu m of stacker reclaimer components from Dalian, China, to Port Hedland in Western Australia. The cargo is destined for a mine and rail project in the Pilbara region.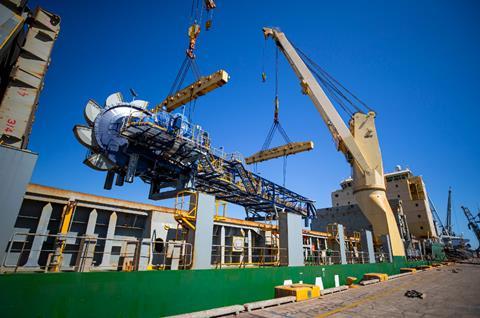 The shipment comprised multiple components, the heaviest of which weighed just over 230 tonnes, and the longest measured 40 m.
The cargoes were loaded onboard AAL's 19,000 dwt heavy lift vessel Fremantle using the ship's 700-tonne capacity cranes in tandem. They were then shipped 3,700 nautical miles to Port Hedland.
The stacker reclaimer components were shipped on behalf of Schenker Australia, and were destined for Fortescue Metal Group's Eliwana iron ore and rail project. Construction began at the site in July 2019.
Nicola Pacifico, head of transport engineering at AAL, said: "We prepared extensive engineering modelling and feasibility scenarios to illustrate the safety of our transport solution, its response to potential weather fronts during typhoon season and to comply with additional requests submitted by marine warranty surveyors.
"Ultimately, we met all required standards and made full use of AAL Fremantle's 1,600 sq m weather deck and the 53 m length of her hold number three to safely stow and secure every piece…" he added.