AAL has delivered three generators using its 31,000 dwt multipurpose ship AAL Singapore for two gas-fired power plant projects.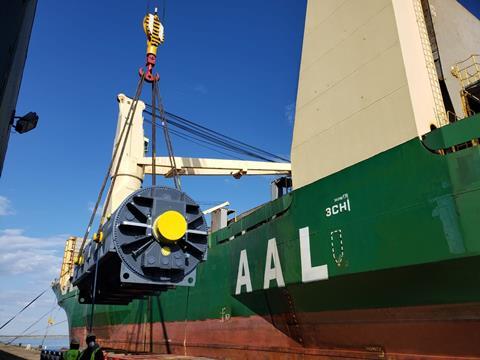 Two of the generators, weighing nearly 350-tonnes each, were manufactured at the Siemens energy hub in Charlotte, North Carolina and transported to the Norfolk International Terminals in Virginia, USA.
They were then loaded onboard the ship for onward transportation to Europe, where one of the generators was offloaded.
After delivering the first unit, AAL Singapore called at the port of Hamburg in Germany to load an additional 317-tonne steam turbine before continuing on its journey to the Middle East.
Both turbines were discharged at the port of Umm Qasr in Iraq. They are destined for the same power plant in Maysan.
The generators were delivered on behalf of different customers, including the forwarder Bertling.
"We have longstanding relationships with these charterers and worked extremely hard to deliver their cargoes on schedule, powering through the challenges to our sea and land-based operations of necessary Covid-19 restrictions and health and safety measures," said Marco Wendt, chartering manager at AAL Europe.
Eike Muentz, general manager at AAL Europe, added: "The US – Europe – Middle East – Asia trade is growing in importance for AAL and in May and June alone, we operated 12 multipurpose sailings calling at US ports, with more planned in July."