Abu Dhabi's Al Faris has placed an eye-catching order for 64 self-propelled MSPE axle lines from Cometto.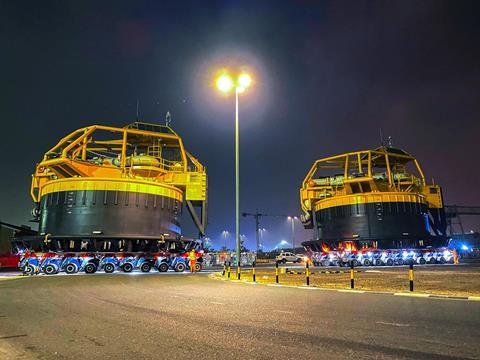 The heavy-duty trailers have an axle load of 48 tonnes, and the order included four 331 kW power pack units and numerous accessories. For their first job in Dubai, Al Faris operators combined a total of 40 SPMT lines into two side-by-side open compound combinations. Two calm buoys had to be transported a distance of 2.5 km within the Jebel Ali Free Zone, from the Fabtech yard to the port, where the general cargo berth is located. The buoys had a length of 16.4 m and a width of 15.92 m, weighing 336.6 tonnes and 315 tonnes respectively.
For this project, the Al Faris team conducted a route analysis in advance and used a new route with road modifications. The wide loads called for a lot of preparation work: sign boards and bollards were removed due to width restrictions.
Additionally, the port fence had to be removed to enter the berth. Cooperation between Al Faris escort vehicles and JAFZA security escort vehicles ensured safe operations while the Cometto SPMT fleet had to drive over 700 m through a contraflow system.
The buoys were offloaded by a geared vessel and they will be used in the future in the petrochemical industry.