Anker Logistica y Carga has transported two natural gas compressor units from Canada to Colombia.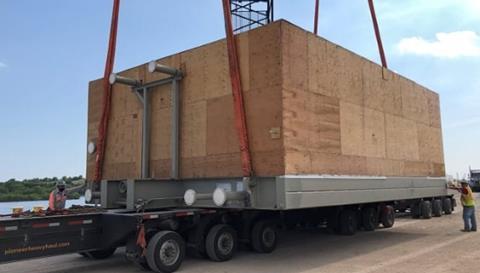 The whole shipment comprised eight pieces of cargo, including two compressor main structures, two cooler units, and four containers with disassembled parts and accessories.
The cargoes were first transported by land to Houston, USA, where they were loaded onboard an ocean-going vessel and shipped to the port of Tolú.
Anker Logistica said that for the two natural gas compressor units, which were over 12 m in length, special permissions had to be obtained in three Colombian states. The Anker team oversaw the preparation and execution of the move from the port to the final destination.
Andrea Manrique, controller at Anker Logistica, said that the biggest challenge for this project was the coordination of the entire process from enlistment, preparation of the relevant documentation, movement of the cargo, Customs processes, and the final delivery in Colombia.
"The cargo included single pieces with weights of 65 tons [59 tonnes] each, which is a rare heavy shipment for the unloading at the port of Tolú," she added.
Anker Logistica y Carga is a member of the Project Cargo Network (PCN) in Colombia.