Bolloré Logistics Tanzania demonstrated its project logistics capabilities with the delivery of 5,000 freight tons of cargo to Songo Songo island.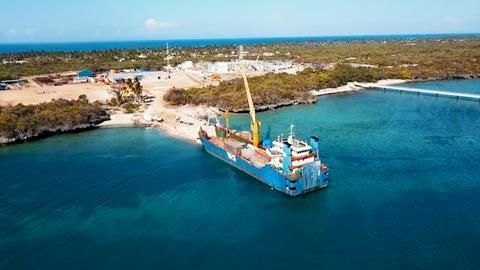 Seven barges were required to deliver the equipment for a gas-compression plant to the island. Several specialised pieces of equipment were used including a 130-tonne crane, a 60-tonne crane, an excavator, a modular hydraulic trailer, and two semi-trailers for shunting.
A jetty had to be rebuilt and converted into a landing area capable of accommodating the vessel and cargo arriving onto the island; backfilling works were undertaken to ease the flow of vehicles being used for shunting on and off the vessel.
"The main challenges were the coordination of the Customs requirements and the client's demands, along with a lack of the equipment, including barges and ships. But with our expertise in logistics and industrial projects, we were able to deliver the required solutions with great success. All cargo was lashed and safely secured according to global QHSE standards," said Elson Shan, cluster commercial director at Bolloré.
Bolloré Logistics Tanzania executed the work between June and November 2021.