Wallenius Wilhelmsen Ocean (WW Ocean) has transported Stadler railcar shells for a commuter line in California on behalf of deugro.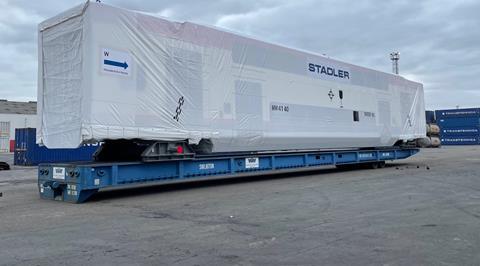 In total, 133 railcar shells will be manufactured at Stadler's manufacturing site in St. Margrethen, Switzerland, for the Californian project. Each unit measures 4.77 m high.

"With little flexibility in project schedules, we were looking for a logistics partner who offers reliability, operational safety and competitive costs," explained Ulf Langner, manager at deugro, Germany. WW Ocean's ro-ro liner schedule offered up a solution that could support the customer's requirement for regular product flows.
"This cargo is really fragile and it must arrive in damage-free condition," added Joris Verhaag, sales manager for breakbulk, Germany. He noted that one of the advantages of ro-ro vessels is that the cargo can be stowed on roll trailers ahead of vessel arrival at the port of loading, which not only allows for more time to safely load the products onto roll trailers, but also results in more efficient terminal operations.
For this project, extra length 72 ft (21.9 m) and 80 ft (24.4 m) roll trailers with imbedded rails were used.
The cargoes are moved from the manufacturing site in Switzerland to the river port in Basel where the railcars are transported by barge via inland waterways to Antwerp Euroports and loaded onto the ro-ro vessels for shipment to Galveston.