Hansa Meyer contracted Mammoet for the transport of 50 pieces of cargo from Thailand to Laos for the Nam Theun 1 Hydropower Project.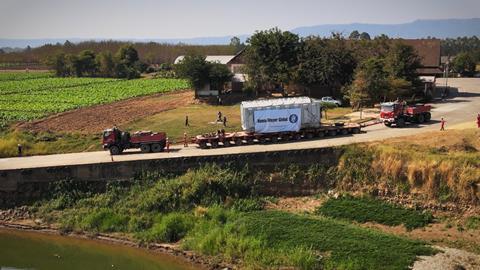 The heaviest cargo transported weighed 236 tonnes, and the largest measured 102.7 m x 3.7 m x 3.8 m.
Hansa Meyer and Mammoet worked in close collaboration to move the cargoes 1,100 km by road from Laem Chabang to Nakhon Phanom, and a further 1.1 km across the Mekong River to a jetty across the border in Laos.
Mammoet's conventional trailers in various configurations were deployed to transport the cargo, which was under escort to ensure traffic was safely managed. The route involved crossing reinforced bridges and widened roads.
Prior to the river crossing by barge, a survey was conducted to measure the water depth, and a ramp fabricated to facilitate the operations.