Casella Autogru has mobilised a Liebherr LTM 1350-6.1 crane to lift air conditioning units onto the roof of a skyscraper in Milan, Italy.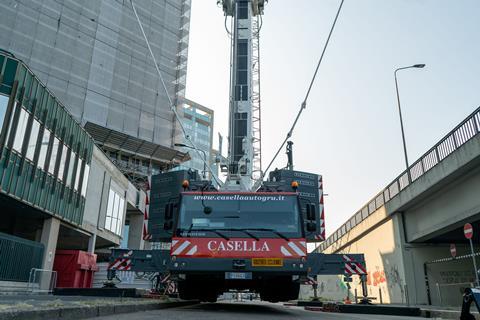 The 350-tonne capacity crane was positioned in the centre of the road in the city centre of Milan. The air conditioning units, which weighed 12.5 tonnes each, were then lifted with a radius of 45 m on to the roof of a 63 m-high building.
Liebherr said that the main challenge was operating in the limited space. Due to the narrow road, the crane outriggers had to be positioned half on the road, and half on the pavement at two different heights.
The LTM 1350-6.1 is the smallest crane that features a Y-guying system, according to Liebherr. Claudio Lozza, crane operator at Casella, said: "The Y-guying system allowed us to benefit from incredible load capacities whilst guaranteeing reduced dimensions – this was the crucial point during this job."