COLI Project Cargo has transported two transformers, each weighing 285 tonnes, in Türkiye.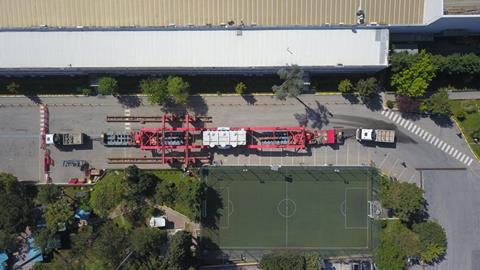 After two months of thorough studies and preparations, the COLI Project Cargo team received the transformers at Safiport, Derince. They were delivered using a girder bridge along a challenging route that required civil works and road improvements to ensure safe transport.
Initially, a gantry crane with a capacity of 1,000 tonnes was deployed at the port yard. After receiving the transformers underhook on a 12-axle SPMT, both transformers were discharged with the gantry to a dedicated area within the port.
The first transformer was then loaded onto the girder bridge configuration for delivery to the project site. The team then returned to the port to collect the second transformer and complete the project within 10 days.
Although the distance between the seaport and the destination was approximately 50 km, each shipment took around six-to-eight hours due to intense road preparations, civil works, and road improvements. The transport combination, together with prime movers, measured 80 m long.
At the site, the transformers needed to be transhipped onto a 12-axle SPMT combination to manoeuvre within the jobsite.
COLI Project Cargo is a member of the XLProjects (XLP) network.